Enrollment is currently closed.
Are you struggling with starting or growing your yoga business?
ASHES Academy is an online membership to help new yoga teachers looking to go from no audience, mediocre tech skills, and lacking confidence to growing a successful home-based yoga business through the power of the internet.
The membership materials include the framework for building a solid foundation in your yoga business (after YTT), whether you're doing it online, in person, or both.
Inside, you'll find guides and tutorials to help you on your path to confident yoga teacher and business owner. There's no need to spend hours pouring over YouTube videos. In this membership, you'll receive guidance and coaching to help you save time and in turn, make you more money.
This low price month-to-month membership is currently closed for public enrollment. Join the waitlist to be notified when we open again. When you. join, you'll have immediate access to:
8-part self-study Home Yoga Business Course (value $997)

Weekly Zoom Q&A

coaching sessions (value $400)
2+ monthly live trainings* for yoga teachers (value $197)
Membership portal with replays & resources (value $497)

Members only community 

Bonus PDF guides and downloadable resources
*Most live trainings are be held on Zoom and on a various topics such as sequencing, class planning, pose transitions, cueing and technology, marketing, and business.
I graduated from my YTT in November but left feeling overwhelmed and lost. I felt like I didn't learn anything and definitely didn't feel confident enough to teach. I have been teaching family members, but that's about it. I started to feel like I hit a wall because I didn't know where I could learn more from, especially since I am not making an income, I cant take all these expensive trainings. But then I found you, and I took your course! Now I truly feel the passion to teach again and ready to move forward.
Yes, you can make a living as a yoga teacher.
Better yet, you can build a profitable yoga business that you love from HOME.
(Hint: That's exactly what I help you do inside ASHES Academy.)
ASHES Academy includes group coaching and month-to-month access to our intensive online academy for those who are ready to go beyond YTT and make an impact and income by building your online yoga business foundation.
Who is ideal for
ASHES Academy?
This membership is ideal for four types of people:
1. Experienced Yoga Teachers who are looking for new or different ways to teach a yoga class,  and build an online yoga business with simple systems in place.
2. New Yoga Teachers who are serious about wanting to teach yoga as their career, but feel underprepared and overwhelmed.
3. Yoga Teacher Trainees who are working towards their YTT certification and need extra support to eventually graduate feeling confident and successful.
So, whether you're and experienced yoga teacher or a home practitioner, you'll find benefit to being in this memebership.
Who is NOT ideal for
ASHES Academy?
The membership is not ideal for you if:
You have never practiced yoga in your life.
You are looking for done-for-you sequences and cueing methods and do not want to think about the purpose behind your class plan.
You're looking to study YTT topics such as in-depth anatomy, pose breakdowns, philosophy, history, technology, getting hired, marketing, etc…
You want someone else to grow, run and manage your yoga business for you.
You're not interested in learning from experienced teachers who have gone before you.
To be clear, you do not need to be a super experienced yoga teacher or business owner to be a good fit for ASHES Academy.
However, you do need a basic knowledge of foundational yoga poses and a willingness to learn.
Essentially, if you're committed to success as a yoga teacher and want the fast-track to yoga business confidence, ASHES Academy is for you.
In the back of my mind, I have always thought that I would do some sort of online yoga offering and I wasn't sure how to begin. Ashley's program has helped me discover my online niche, gain clarity and begin to develop my yoga business. The biggest shift for me was learning about digital course creation, which was something that I had never really thought about. I highly recommend Ashley's membership. She offers incredible value, continuous mentorship, tech help and so much more all at an affordable price point. It's the best business development program that I have ever taken.
If you've read this far and you don't know me, hi! I'm Ashley.
I'm a yoga teacher, YTT lead trainer, studio owner, online course creator, entrepreneur, and media communications expert.
I graduated from my first YTT in 2013, immediately quit my full-time job and set out to be a full-time yoga teacher.😅 I can't say the path has been easy, but I've learned a thing or two (or 500 things) that would have seriously helped me in the process.
Using what I've learned after years of trial and error in the yoga industry, I've packaged up all the tips, tricks and short-cuts into an all-encompassing academy and coaching program. That's exactly what ASHES Academy is all about.
Ashley's timeline of events:
2011 – Student athlete, graduated 4.0 with a 4-year degree in Graphic Communications.
2012 – Working full-time as a graphic designer, I started teaching group fitness classes on the side. I also joined an online fitness coaching business & community. This is the year I dove DEEP into personal and professional development.
2013 – Attended 200 hr YTT in Dallas TX and learned to teach power vinyasa yoga. Quit my full-time graphic design job to pursue yoga teaching. This is the year my dad passed away and I realized life is too short to not do what you love.
2015 – Started practicing Ashtanga yoga and attended first of several live Budokon® Yoga trainings.
2016 – Started my online yoga business, investing in business coaching to streamline my growth.
2017 – Co-led my first 200 hr YTT in Fargo, ND.
2018 – Moved across the country to Washington state, and had a baby (totally random). I mention this because I had to start completely over. I also co-led my second 200 hr YTT in Wisconsin when I was 5 months pregnant.
2019 – Purchased a local yoga studio. Led 3rd 200 hr YTT (sold out) on my own.
2020 – Led my 4th YTT (sold out), finished up in June. Studio temporarily shuts down. Moved all classes and offerings online within 24 hours. The year of Virtual Yoga Teaching!
2021 – Turned my energy and efforts towards online courses, workshops and this membership. Made the tough decision to let go of my physical yoga studio. Continued developing relationships and building community online. 
2022 – Here we are!
I have been so impressed with [ASHES Academy] and the level of support and attention that Ashley gives to all members. There are so many things that I have learned from her that I didn't even know I needed to know. I think, above all, I have learned that you can learn the technical skills, but the accountability of a group going through the same things as you are, as you start your business, is just so important to your development as a YT and business owner.
"How does this monthly membership… work?"
Once you sign up for the membership, you'll get an email with your confirmation with access to the membership portal on the Teachable platform. Inside, you'll see a couple course portals you can log into. 
1. Home Yoga Business Course (8 week self study course)
2. Yoga Teacher Training replays & live trainings
3. Bonus mini courses (Focused Flow, Teaching Yoga to Beginners)
From that initial email, you're able to request to join our private Facebook group. If you are not on Facebook, no worries. Replays and new material will be put in the Teachable portal and emailed out to everyone in our weekly membership email.
We will also have scheduled group Q&A and live  trainings, so make sure to download the Zoom app on your phone or computer so you are ready to go on the day of the training.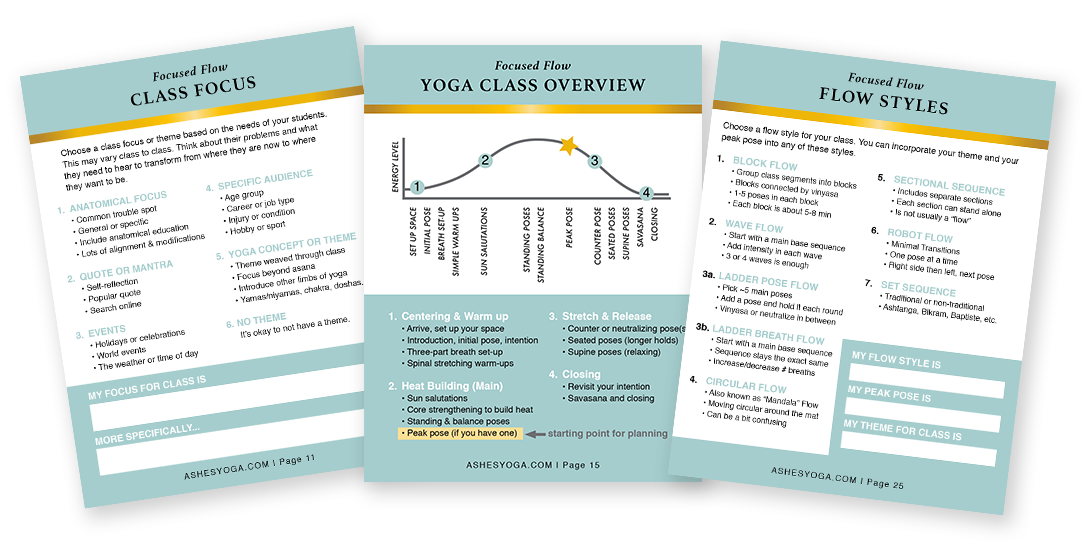 ASHES Yoga Business Success Path
Answers to your Questions!
What do I get when I join?
As soon as you join, you'll get immediate access to the membership portal on the Teachable platform, all access to past workshops, the schedule to sign up for upcoming workshops, the members only Facebook group… and an imaginary gold star!
What if I can't join for the times of the live workshop or calls?
The times and days of the live workshops will vary month to month. If you cannot join live, no worries! The replays and materials of each workshop will be available in the membership portal shortly after it concludes. Hang out in our private Facebook group for more community interaction.
Can I join the live workshops if I am not in the membership?
No. The online workshops are reserved specifically for the paying members of the membership. A few (not all) are recorded and sold as replays afterwards to people outside the membership.
What apps will I need as a member?
Zoom for live workshops, Facebook for our group, and Teachable for the membership portal.
What if I need to cancel my membership?
We hate to see you go, but understand that life and circumstances are constantly changing. Send an email to ashesyoga@gmail.com requesting cancelation within 2 days of your next billing cycle and we'll get you taken care of! 
What is the refund policy?
Due to the digital nature of this membership and the low price-point, we do not offer refunds on purchases or past months paid.