Nice to meet you!
HI! I'm Ashley.* I'm a yoga teacher, yoga teacher trainer, yoga studio owner, and business coach. 
I help yoga teachers set up their business to make money online, beyond donation-based Zoom classes. This is especially valuable in this current time because none of us can teach in-person classes anymore, yet we still want to serve our students and pay our bills. My training also helps build credibility (you'll at least have a website) and creates more awareness for your classes when we get back in the studio.
Start here! Free Virtual Yoga Teacher guide
*See more of my personal story below.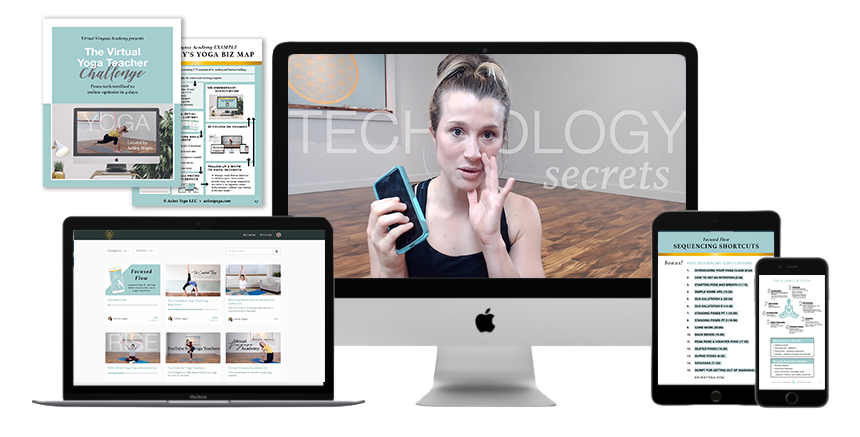 Free guide to start your virtual yoga teaching business.
From tech terrified to internet savvy in less than a week.
Sign up below to receive the FREE workbook and 4-part video series for our Virtual Yoga Teacher Challenge. Video links to the past video challenge will also be in the confirmation email.
My Personal Story
In 2011, I earned a degree in Graphic Communications, with focus on digital design & production. Basically that is the fancy way to say "graphic design." I was an athlete. I was highly driven and motivated.
I started practicing yoga during college and continued at home with DVDs. It changed my life.
In 2013 I attended my first yoga teacher training. I was hooked. I left my full-time job, sold my house and dove head first into the world of yoga teaching. I had dreams of becoming a super successful yoga teacher, perhaps even traveling the world. No one was going to stop me.
I was young. I was naive.
I thought it would be easy.
It was hard, yet so fulfilling. After 4 years of teaching 15-20 classes per week plus workshops and co-leading a couple yoga teacher trainings, I decided to start over.
I moved across the country and started from scratch. With a tiny, yet growing, online following and fabulous mentors in my back-pocket, I set out to build my online presence and re-build my community locally.
And then I became a mom.
I no longer had time or energy to teach 15+ classes a week. I knew that once I became a mom, I wanted to be home more with my babies. But I also want to continue doing what I love, which is teaching yoga. 
While teaching at the local YMCA (hello, child care!) and a couple studio classes a week, I got back to work building my yoga business online. Now I help new yoga teachers with confidence to get out there and actually teach.
Then in fall 2019, I walked into yoga studio ownership. My next 200 hr YTT will be held Spring 2020 at my yoga studio, Ashes Yoga Studio. More info to come.
Check out my teaching tips videos on YouTube.