RESOURCES
recommendations & courses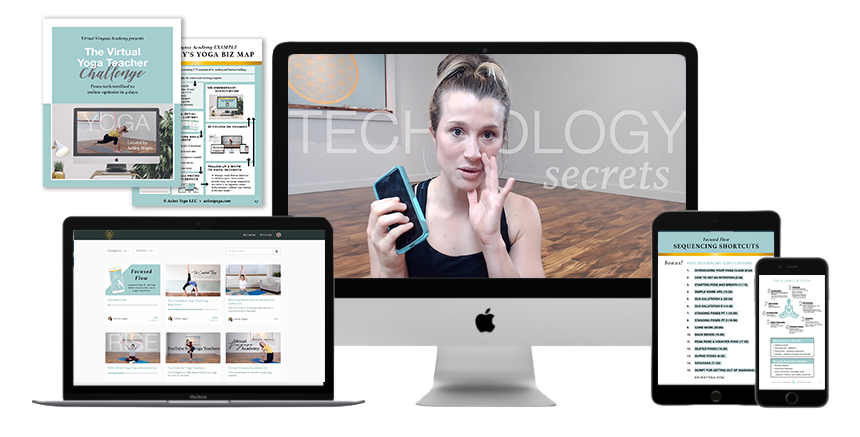 Free guide to start your virtual yoga teaching business.
From tech terrified to internet savvy in less than a week.
Sign up below to receive the FREE workbook and 4-part video series for our Virtual Yoga Teacher Challenge. Video links to the past video challenge will also be in the confirmation email.
"You just gave us a perfect skeleton for a yoga class. This is so helpful! My yoga teacher training should have including a simple explanation like this."
________
"I feel like you taught me more than my 200 hour TT and the 500 HR TT I am currently in, when it comes to sequencing. Fantastic thanks!"
_______
"I am beginning my journey as a yoga instructor and found your video extraordinarily helpful! I'm so much more at ease now about making the classes I'm teaching flow properly, and having the class build to a peak."
(YouTube Comments)
Essential Online Tools FREE Download
Check out my list of recommendations for online resources to help new yoga teachers get started in with an online yoga business. This is an INSTANT download. Click the link below.
YTT Book List
Want to get started on your reading for our next upcoming YTT? Or maybe you are looking for a good yoga book to pass the time. Here are the books I require for YTT. 
Siddhartha (an quick, easy read)
How Yoga Works (also easy, although looks big)
The Yamas & Niyamas (one chapter at a time)
Yoga Anatomy (used as a reference)
Theme Weaver (read later or after the training)
Essential Oils
Need some essential oils in your life? Click the button below. If you are interested in teaching yoga with essential oils, I can help you get started. Email me at ashesyoga@gmail.com for more information on teaching yoga with essential oils.
Beachbody On Demand Fitness & Yoga
Need a fitness program in your life? I've got you! I've been a user of Beachbody's workouts for over 10 years. I use them. I love them. I talk about them. I find that the variety of workouts and supplements are a great compliment to my yoga lifestyle. I love the Beachbody on Demand streaming video option because I can try workouts I never thought I'd do, and I no longer own a DVD player. There's even an amazing "yoga studio" option and loads of videos to help you on your path to optimal health. Check it out! There's a 14 day free trial, but the 1 yr for $99 is really the best option.
*I am a coach.*
Contact me for details on how to become a coach on my team.
*As an Amazon Associate I earn from qualifying purchases.